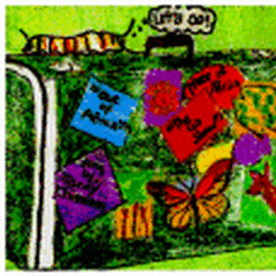 8 rock 'n 'roll style songs take the listener on an adventure through Africa. The lyrics are musical spelling games that encourage learning about many aspects of Africa.
LISTEN/DOWNLOAD 
We begin the journey with "We're Going Into Africa"
We encounter an Elephant and sing the "Elephant Ride"
Along the way, we climb a tree, and discover facts about other "Trees Of Africa"
Things get mucky in the swamp, but that's where "The Insects Of Africa" live!
Wow, what a great trip!  Great sites and sounds, that's what happens "When we go To Africa"!